Fraud Management & Cybercrime , Governance & Risk Management , Incident & Breach Response
A Preview of Delhi Fraud & Breach Prevention Summit
Security Thought Leaders Share Actionable Steps for Breach Preparedness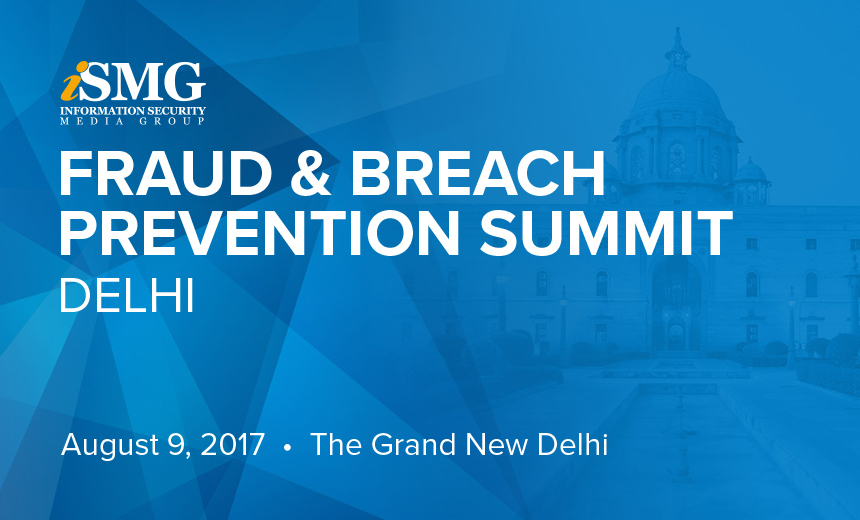 High-profile breaches, including ransomware attacks, cyber extortions, attacks on government organizations, leaking of customer credentials by UIDAI and website defacements, have been grabbing headlines in Asia and India.
See Also: Maintain a Clear Bill of (Third-Party Risk) Health
There is a dire need for businesses to prepare themselves to ensure an effective, swift and well-orchestrated response to breaches. It's imperative to spread best practices and spur innovation in building the best cyber defenses.
The objective of the event is to share best cyber defense practices to respond to new threats and also assess the preparedness of organizations in responding to new breach incidents.
To help with this effort, Information Security Media Group on Wednesday will host its latest Fraud and Breach Prevention Summit in New Delhi at The Grand. The event follows successful summits in Mumbai, Bengaluru and other cities around the world.
The objective of this one-day, dual-track summit - designed for senior information security, risk management, compliance, forensic, policy makers, cyber law and law enforcement professionals - is to share best cyber defense practices to respond to new threats and also assess the preparedness of organizations in responding to new breach incidents.
The event will offer insights on new ways to protect end points that are vulnerable to cyber threats.
The summit will bring together thought leaders from the government and private sector, as well as technology providers, to discuss and debate the best ways to secure organizations' critical information assets against new threats. They'll impart lessons on leveraging unique resiliency practices and policy guidelines and offer insights on the right steps to take to protect against cyber catastrophes
Hot topics at the summit include:
Assessing preparedness of law enforcement to respond to the challenge of cybercrime;
Sizing up the data breach outlook from the current nation-state roots to the next massive attack;
Leveraging threat intelligence to protect against DDoS attacks;
Tackling the challenges of fraud due to the emerging standard for mobile payments;
Securing your attack surface through machine learning.
Critical Concerns
The summit will feature distinguished security leaders and subject matter experts sharing insights and challenging practitioners to take new approaches to secure their environments.
Some critical concerns the summit will delve into are:
Building capabilities to respond to disruptive breaches;
Building an enterprise immune system to defend against next-generation threats;
Enhancing your threat detection and defending capabilities;
Securing your connected devices against cyber invasions.
Hot Sessions
The summit will commence with a keynote address by Dr. Madan M. Oberoi, joint commissioner-special cell, Delhi Police. He'll size up cybercrime trends and assess the preparedness of law enforcement in responding to this challenge.
In a plenary session, Lt. Gen. Arun Kumar Sahni (retd.), former GOC-in-Chief, Indian Army, will offer insights on the data breach outlook and discuss how organizations must prepare for sophisticated nation-state attacks.
In a session on securing industrial systems, Bithal Bhardwaj, CISO and principal risk adviser at GE for Africa and South Asia, will discuss "Industrial Internet of Everything: Please Don't Connect It First and Secure It Later."
Rohan R. Vibhandik, scientist, cyber intelligence, ABB Corporate Research Center, will offer a live demo of how to detect threats using machine learning.
Other featured sessions include:
"Mobile: The Emerging Standard for Payments & the Next Target for Fraud," featuring Subhash Subramaniam, CISO, ICICI Bank;
"Fighting Fraud with Men, Machines and Data," featuring Guru Bhat, general manager, technology, and head of engineering, PayPal; and
"Is Detection a Myth? An Effective Approach to Threat Hunting," by Anuj Tewari, CISO, HCL Technologies.
In addition, panel discussions will address hot topics including: "We've Been Breached: Now What? How to Effectively Work with Law Enforcement and Regulators" and "Securing the Cashless Payments Infrastructure: BFSI Perspective."
For more information, please visit ISMG's event page. And if you're attending the Delhi Summit, please provide me with feedback on the event, as well as insights on topics and speakers you'd like to see at future events.